Optiver Taiwan Graduate Quantitative Trader and Trading Internship Opportunities 2023-24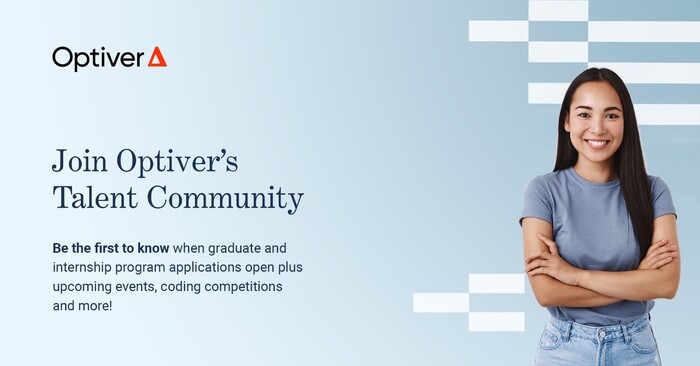 Optiver是一間擁有超過36年資歷、全球首屈一指的金融衍生商品造市商,我們於 1986 年在阿姆斯特丹成立,全球擁有 1,600 多名員工,我們正在尋找數理能力優秀的菁英,參加我們2023年度的海外實習及新鮮人計畫。
Do you love solving complex and unique challenges? Have a strong analytical skillset? Want to work overseas in an exciting role?
You don't need to know anything about trading or finance. We'll teach you that.
Get ahead of your peers and sign up to Optiver's talent community (https://optiver-1.hubspotpagebuilder.com/talent-community-taipei . Be the first to know when our 2023/24 Trading Summer Internship (July to August) and Graduate opportunities are open. You don't need to know anything about trading or finance
Join Our mission to improve the market
Optiver is a tech-driven trading firm and leading global market maker. With over 1,600 employees in nine office locations, we are united in our commitment to improve financial markets around the world. Beyond our mission, we are also passionate about supporting the next generation of talented students (like you) to develop and grow.
Visit our website (https://optiver.com/) to explore how trading and tech can join forces to make a tremendous impact, instantly and globally.
What you will get
Graduate: TWD $5 million first year package and chance to relocate to Sydney

Internship: TWD $ 1.2 million+ for the duration of the internship (8 week) and chance to go to our Amsterdam HQ office

Participation in our renowned training program, alongside diverse and intelligent peers in a rewarding environment

Training, mentorship and personal development opportunities

Daily breakfast, lunch and free snacks

Regular social events

Accommodation for the entirety of the internship, and business class flights where necessary
Eligibility
Graduate: a final year/Honours/Masters/PhD student or a recent graduate (up to 4 years)

Internship: a penultimate or pre-penultimate university student

Fluent in English
How to apply
Sign up to our talent community now for our latest news and events! Our official recruitment process will start in January, we will stop by universities or having virtual orientations to connect with students and give you the opportunity to discover more about what we do.
https://optiver-1.hubspotpagebuilder.com/talent-community-taipei
If you have any questions regarding this opportunity, please contact us at
More information
Video: Discover Optiver's summer internship program
From the challenging opportunities to the constant support you'll receive, discover what it's like to build your career at Optiver.
Watch here: (https://www.youtube.com/watch?v=g9coF2AO6mY)
Blog: Meet Will, Index Options Trader
Discover what it's like to work on Optiver's dynamic trading floor as a Graduate Trader. In this short Q&A, Will shares what his role entails, some of the projects that he's worked on as well as what he loves most about working at Optiver.
Read more: (https://optiver.com/working-at-optiver/career-hub/optiver-graduate-stories-pathways-to-a-career-in-trading/#will)