Associate Solutions Architect Intern of Amazon Web Services in TAIWAN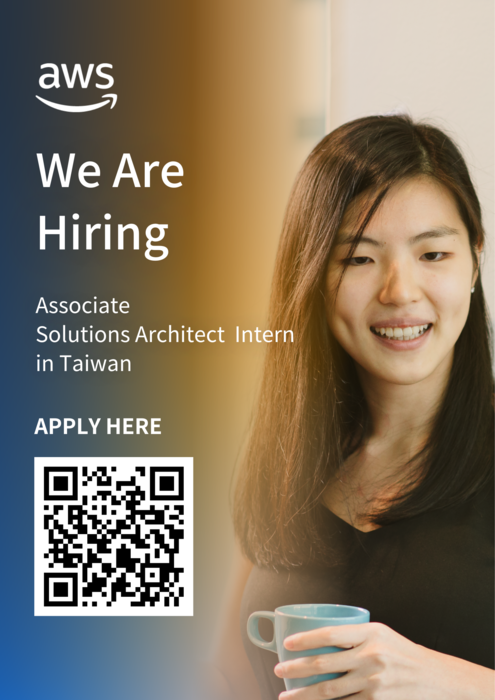 DESCRIPTION
Do you enjoy offering technical assistance to customers?

Do you want to accomplish this with the most recent cloud computing technologies?

Do you excel in assisting businesses with comprehending infrastructure and application architectures, including integration strategies?

Do you relish the prospect of serving as a consultant and steering a project's launch toward success?

Do you want to be part of the business development team helping to establish Amazon Web Services as a leading technology platform?

As an Associate Solutions Architect (ASA) within Amazon Web Services (AWS), you will have the opportunity to help shape and deliver on a strategy to build mind share and broad use of Amazon's utility computing web services including infrastructure, DevOps, business applications, multimedia, machine learning, IoT, desktop applications, and industries solutions.

Your wide duties will include: owning the technical engagement and eventual success around particular implementation projects, building a broad understanding of how applications and services are built utilizing the AWS platform, and becoming an expert in the AWS technologies.

The ideal candidate will have technical knowledge that enables them to easily interact with and provide direction to developers and architects, customer-facing skills that enable them to effectively represent Amazon within a customer's environment, and a technical background that drives discussions with senior staff members within the organization.

About the team
Our team is focused on balancing life with our work, and we do this via work autonomy and by prioritizing solutions and processes that enable us to scale faster than the business. While there may be an opportunity to work from an open-seating office, working remotely is supported, and often times encouraged. Work hours are flexible and typically self-defined.

Inclusive Team Culture
Here at AWS, it's in our nature to learn and be curious about diverse perspectives. Our employee-led affinity groups foster a culture of inclusion that empower employees to feel proud of our differences. Ongoing events and learning experiences on ethic and gender diversity inspire us to never stop embracing our uniqueness.

Mentorship & Career Growth
We have a career path for you no matter what stage you're in when you start here. We're continuously raising our performance bar as we strive to become Earth's Best Employer. That's why you'll find endless knowledge-sharing, mentorship and other career-advancing resources here to help you develop into a better-rounded professional.
BASIC QUALIFICATIONS
Current students are expected to graduate in 2023 from any accredited University with full-time bachelor's degree or above in any discipline.
Degree in Computer Science, Electronical Engineering, Mathematics, Technology or related science/technical fields OR equivalent training, certifications, and/or experience.
Interest in and aptitude to learn about and deliver cloud-based solutions to customers.
Experience with a programming language (e.g., Java, Python, GoLang, NodeJS, C#, C/C++) OR the interest and technical ability to learn a programming language.
Written and verbal communication skills and ability to effectively articulate technical challenges and solutions to both large and small audiences.
Fluent verbal and written proficiency in English and Chinese.
PREFERRED QUALIFICATIONS
Demonstrated ability to adapt to new technologies and learn quickly.
Experience with container workloads, databases (relational and/or NoSQL), or event-driven design.
Experience with software development lifecycle (SDLC) and agile/iterative methodologies.
Experience implementing cloud-based technology solutions (e.g. school project, working for a company).
APPLY NOW:https://www.amazon.jobs/en/jobs/2234404/associate-solutions-architect-intern