2023 BCG PTA Program, now~2/15 17:00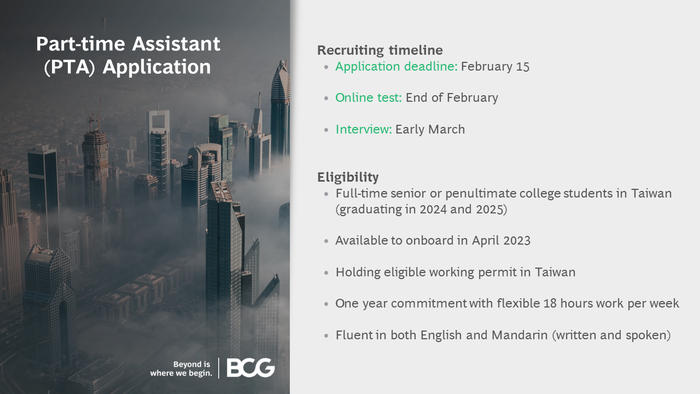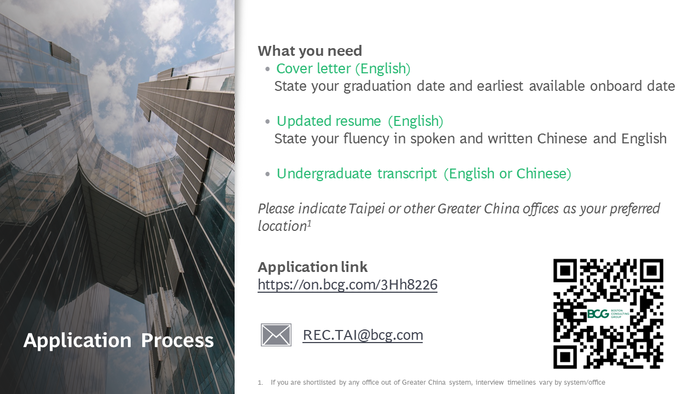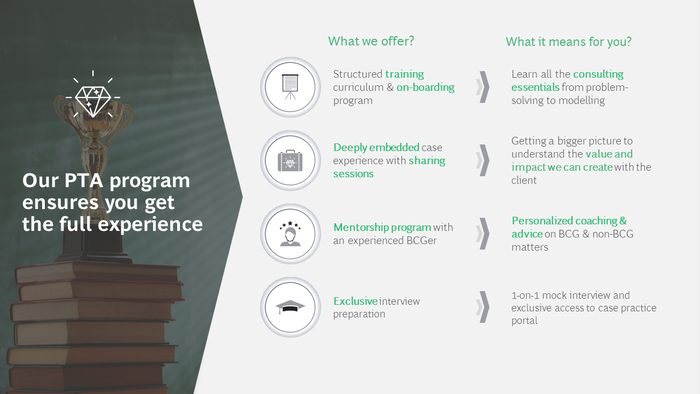 TAI - 2023 PTA Application
Location:
Taipei
Geography:
Asia Pacific
Capabilities:
Big data & advanced analytics, Corporate development & finance, Growth, Innovation & product development, Strategy, Sustainability, Technology & digital
Industries:
Biopharmaceuticals, Climate & Sustainability, Consumer products, Energy & environment, Engineered products & infrastructure, Financial institutions, Health care payers & providers, Insurance, Private equity and principal investment, Technology industries, Telecommunications
Who We Are
Boston Consulting Group partners with leaders in business and society to tackle their most important challenges and capture their greatest opportunities. BCG was the pioneer in business strategy when it was founded in 1963. Today, we work closely with clients to embrace a transformational approach aimed at benefiting all stakeholders—empowering organizations to grow, build sustainable competitive advantage, and drive positive societal impact.

Our diverse, global teams bring deep industry and functional expertise and a range of perspectives that question the status quo and spark change. BCG delivers solutions through leading-edge management consulting, technology and design, and corporate and digital ventures. We work in a uniquely collaborative model across the firm and throughout all levels of the client organization, fueled by the goal of helping our clients thrive and enabling them to make the world a better place.
What You'll Do
You'll support our full-time staff for working alongside some of the world's top minds on cases that reshape business, government, and society. Consulting work is varied and rigorous, all projects can vary in length, size, and location, depending on the client's challenge. You'll collaborate on real strategy projects with team members from different backgrounds and disciplines, increasing your understanding of complex business problems from diverse perspectives and developing new skills and experience to help you in the future.
What You'll Bring (Experience & Qualifications)
Full-time students from universities in Taiwan

Graduating in 2024 and 2025
Excluding exchange students

Passionate, open-minded, and accomplished students
Relevant past internship experience and suitable fit with BCG
Holding eligible working permit in Taiwan
One year commitment with flexible 18 hours work per week
Fluent in both spoken/written English and Mandarin
What you need to prepared for an application:
Resume in English
Cover letter in English
Undergraduate transcript (English or Chinese)
Date Posted:
27-Jan-2023
Boston Consulting Group is an Equal Opportunity Employer. All qualified applicants will receive consideration for employment without regard to race, color, age, religion, sex, sexual orientation, gender identity / expression, national origin, disability, protected veteran status, or any other characteristic protected under national, provincial, or local law, where applicable, and those with criminal histories will be considered in a manner consistent with applicable state and local laws.
BCG is an E-Verify Employer. Click here for more information on E-Verify.
PTA application link can be submitted via https://on.bcg.com/3Hh8226
The required documents for application submission will include a English resume, cover letter, and undergraduate transcript.